Check here for Events, Pictures, and Articles from the Games.
&
Welcome to the AAU Junior Olympic Games Web-site. Here you can find everything from sports information and results, to history, and even road maps.
We hope that through healthy competition, our youth will gain self-esteem, learn the value of teamwork, and develop sportsmanship. To recognize the athletic ability and sportsmanship of an athlete representing each official sport at the AAU Junior Olympic Games, the AAU awards the Joel Ferrell Memorial Award.
The 1999 AAU Junior Olympic Games come to Cleveland July 27-August 7, 1999. This will be the 33 year that the AAU Junior Olympic Games has been held. The event is the largest national multi-sport event conducted annually for youth in the United States, and the showcase event of the Amateur Athletic Union (AAU) Youth Sports Program. The first Junior Olympic Games were held in 1967.
Approximately 12,000 to 15,000 young athletes ranging in age from 6 to 19, will qualify for the Games by competing in their home states' local AAU competition. Spectators, including participants' families, could number up to 35,000.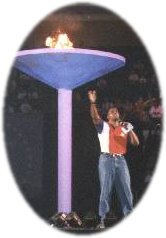 Many famous athletes have competed in the Junior Olympic Games including Jackie Joyner-Kersee, Shaquille O' Neal, and many others. Check out the history of the Junior Olympic Games for a list of many others.
The Opening Ceremony is a gala event packed with excitement and prestige. This year's ceremony will be held on Wednesday, Aug. 4th at Gund Arena. It will feature live musical entertainment by a nationally renowned enertainer. The festivities begin at 7:30, so don't be late.